Zagreb is a pocket- sized metropolis, culturally close to central European capitals but with more than a dash of Mediterranean atmosphere. It is a political, commercial, cultural and academic centre of the country, home to almost a quarter of the country's population. The sightseeing is easy and the most important cultural and historical monuments are within walking distance.
IN THE SPOTLIGHT
Upper Town
Upper Town consists of two medieval settlements that the city grew from: Kaptol and Gradec. Kaptol and Gradec were at odds, fighting many battles during Zagreb's long history until finally, in 1850, the settlements united into the Royal City of Zagreb. They are not ghost towns, but living and breathing heart of the city. Kaptol is home to Katedrala Marijinog Uznesenja (The Cathedral of the Assumption of the Blessed Virgin Mary) which locals always refer to simply as The Cathedral is a wonder of Neo- Gothic architecture with two pointed towers springing from the sides and is surrounded by original 16th ct. walls. Two minutes walk takes us to a completely different Zagreb- Dolac market - a buzzing open food market known as "the belly of Zagreb". Built in the 1930s it has been the focal point of city life ever since. Tkalčićeva ulica (Tkalča to locals) is a long pedestrian street where a number of cafés and bars offer a great place to sit, sip your drink and generally revel in Croatian favourite pastime "activities"- drinking coffee, people-watching and gossiping. From Tkalča, we walk uphill to Kamenita vrata (Stone gate)- an archway, a sanctuary, where candles always burn for Zagreb's patron saint- St. Mary of the Stone Gate. Through this gate we walk into Gradec. Gradec is also known as Grič and today it is a political and administrative heart of Croatia. On Trg Sv. Marka (St. Mark's Square) we find St. Mark's Church (Crkva Sv. Marka) with the ceramic tiled roof depicting Zagreb and the Kingdom of Croatia coats of arms (the roof is a well- recognised symbol of the city), as well as Croatian parliament and Banski dvori (Viceroy's Palace; housing governmental offices are). Kula Lotršćak (Lotršćak Tower) is the last defence tower of mediaeval Gradec and a place from which Grič canon sounds noon every day. We finish our visit of Gradec by a ride on a funicular- operating since 1892, thus being among the longest operating ones in Europe.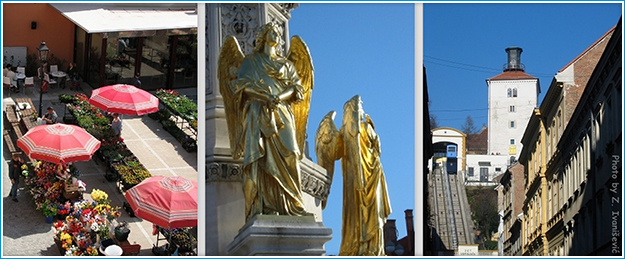 Lower Town
Trg Bana J. Jelačića
Trg bana Josipa Jelaćića (Governor Jelačić Square), or simply The Square, is the main square in Zagreb and a meeting point for locals, as well as tourists. The Square is marked by the equestrian statue of Governor J. Jelačić and many people, visitors and young locals, will take a seat at the bottom of it.
The Green horseshoe
The Green horseshoe (the "green heart of Zagreb") consists of several square- parks and is an area of lush greenery in the city centre. Its name comes from a distinct U shape that can be seen on the map of Zagreb. These square- parks in Donji Grad (Lower Town) became part of Zagreb's urban plan at the end of 19th and beginning of the 20th ct. and are surrounded by historical buildings, many of which house various museums and galleries. The southern part is entirely comprised of the wonderful Botanical gardens- it extends on a surface of around 4.7 ha and has ten thousand plant species from Croatia and the whole world including some endangered ones.
A short hop away from the city centre
Mirogoj
Mirogoj Cemetery is considered to be one of the most beautiful cemetery parks in Europe. It is not only a burial place but also a beautiful park and open art gallery. The well-known architect Herman Bollé designed the shape of the cemetery, applying a monumental composition of arcades, pavilions and domes, intermingled with rich vegetation, and adding a gallery of sculptures by Croatian The cemetery inters members of all religious groups: Catholic, Orthodox, Muslim, Jewish, Protestant, Latter Day Saints and irreligious graves can all be found. In the arcades are the last resting places of many famous Croats.

TOP 3 MUSEUMS / GALLERIES
Museum of Broken Relationships (Muzej prekinutih veza)
Brokesnhips is the latest and one of the most visited museums in Zagreb. It grew from a travelling exhibition revolving around the concept of failed relationships and their ruins. In 2011 it was awarded a prestigious Kenneth Hudson Award for the most creative museum in Europe.
More info: www.brokenships.com
The Croatian Museum of Naive Art (Hrvatski muzej naivne umjetnosti)
In 1952, the Peasant Art Gallery was founded in Zagreb; from 1956 it operated under the name of the Gallery of Primitive Art, while since 1994 its title has been the Croatian Museum of Naive Art. It is considered to be the first museum in the world dedicated solely to the naive art- a distinct style of the 20th century art.
More info: www.hmnu.org
Zagreb City Museum (Muzej grada Zagreba)
The Museum was established in 1907 and is located in a restored monumental complex (Popov toranj, the Observatory, Zakmardi Granary) of the former Convent of the Poor Clares, of 1650. The Museum deals with topics from the cultural, artistic, economic and political history of the city in a span from Roman finds until the modern period. Apart from the permanent collection, various exhibitions and events that attract a lot of public attention are organised in the Museum.
More info: www.mgz.hr

TOP 3 FESTIVALS / EVENTS
Summer on Stross
Strossmartre is our favourite open air festival. Every year it begins in May and lasts until september. Expect concerts, films, theatre and more. If you are visiting Zagreb this summer- Strossmayer Promenade is the place to be!
More info: www.ljetonastrosu.com
The Zagreb Time Machine
Various squares and streets in the centre of Zagreb, as well as Maksimir park, become places where you can enjoy various events and performances in spring and summer. This project is organised by the Zagreb Tourist Board and has been running for several years, successfully encompassing nine events that each in its own way present city's past and culture.
More info: www.zagreb-touristinfo.hr
Zagreb Film Festival
This international film festival is held annually since 2003. The festival features three separate international competition programs (feature film, short film, documentary film), and one competition program for short films made by Croatian authors. Apart from these, the festival usually organizes additional non-competitive programs, such as children's film program or a selection of debut works made by well-known film directors.
More info: www.zagrebfilmfestival.com