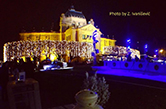 Zagreb, 20.11.2018.
DECEMBER IN ZAGREB
Jingle bells, jingle bells jingle whole of December (and a bit in January as well)....Visiting Zagreb in December has never been more fun: more events, more live music on various locations in the city centre and Xmas markets offering handmade produce. Put on your hats, gloves, scarves and join us in Zagreb for some winter fun. And if you get cold, don't worry- there are many stalls with mulled wine to keep you warm. Come and see for yourselves why did a renowned travel portal European Best Destinations* proclaimed Zagreb "The best Christmas market" in Europe for three consecutive years- 2016, 2017 and 2018!

1st of December 2018- 6th of January 2019
Advent in Zagreb

01.12.2018.- 06.01.2019.
Zagreb winter tale
Zagreb winter tale at J. Jelačić Square (main square) is more magic every year! In this fairy-tale location you'll find top quality gastronomic selection, numerous music acts and entertainment for children during the day, as well as special parties in the evening.
01.12.2018.- 06.01.2019.
Zrinjevac
Park Zrinjevac has always been among locals' favourite places to be during Advent as it offers concerts every evening (expect evergreens, waltzes, blues, gipsy jazz and much more), stalls with food and drinks, as well as various handmade xmas presies. Music program from 18-22h on weekdays, weekends from 11-13h and 20-22h.
01.12.2018.- 06.01.2019.
Europski trg (European Square)
Zagreb's newest pedestrian area has been included in this year's celebrations as it proved to be a very popular location in the past three years! Expect concerts and DJs in the evenings, xmas fair and more. Much more. Concerts: 20:00-22:00.
01.12.2018.- 01.01.2019.
Fooliranje (Fooling Around)
This innovative and modern cultural and gastronomic event has moved to a new location- Strossmayer Square. Be part of the "in" crowd and come here for some street food, fancy burgers, local produce, local designers' knick-knacks and more. Here you'll find Croatia's finest bars and restaurants while you dance to the tunes of various DJs and bands.
01.12.2018.- 06.01.2019.
Ice park on King Tomislav Square
Get your ice skates on this winter at Zagreb's coolest outdoor ice rink behind magnificent Art pavilion. This is one of the most exciting, new places to be opened last winter becoming an instant hit with locals and visitors! Open daily: 10- 23h.
01.12.2018.- 06.01.2019.
Advent in the Tunnel
From 01.-11.12. take a walk through the Museum of Reality – the most precious thing in the world (UNICEF), and from 14.12.-06.01. enjoy Winter Garden, a magical world of an imaginary castle from a frozen fairytale Tunnel is open every day: 09:00-22:00.
01.12.2018.- 06.01.2019.
Advent in Maksimir park (Zagreb ZOO)
This new location was envisioned for the whole family in cooperation with the Zagreb Zoo. The rich variety of quality educational and fun programs for children, along with programs and a selection of offers for grown-ups, will thrill all visitors who wish to enjoy the magic of the Advent season with their kids.
02.12.2018.- 01.01.2019.
Advent at Stross
One of our favourite summer locations, got it's winter edition last year. In the old Upper Town you will want to stay for hours and enjoy great food, craft beer, wine, mulled wine and many special Advent delicacies on offer in those fairy-tale huts. In addition, enjoy the music from the stage that will feature live music or a DJ every evening.

Concerts from Zagreb balconies- Ad Gloriam Brass
Below selected balconies you'll be able to enjoy a unique music experience - Ad gloriam brass, a six-piece brass band consisting of the Croatian National Theatre in Zagreb Opera Orchestra and Zagreb Philharmonic Orchestra members. Concerts start at 19:00h: 02.12.- Gallery Lav; 09.12., 16.12. and 23.12. Tkalčićeva 33).
www.hdlu.hr

So many new events and new delights that we can not list them all: Advent in Tkalča (01.12.2018- 06.01.2019), Film Advent- Advent in Sister Bakovic Passage (hrv. Prolaz sestara Baković; 01.12.2018.- 06.01.2019.), Advent in the Klovićevi Dvori Gallery (01.12.2018- 01.01.2019) and (many!) many more.

More info and more events: www.adventzagreb.com
*European Best Destinations: www.europeanbestdestinations.com
more...