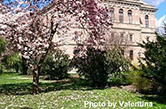 Zagreb, 15.03.2018.
SPRING AND SUMMER IN ZAGREB
Spring and summer 2018 in Zagreb are sunny, lively and interesting. Many open air festivals and events are awaiting you, alongside few renown film festivals and attractive exhibitions. We recommend:

12.04.- 29.07.2018.
Catherine the Great- Empress of all Russians
Klovićevi Dvori Gallery invites us to a grand exhibition of various items from one of the largest museums in the world- Hermitage (St Petersburg). The exhibition celebrates 50 years of friendship between cities of St Petersburg and Zagreb by presenting the rule of one of the most powerful women in history- Empress Catherine II (1729-1796).
više info na: www.gkd.hr
08.04.-14.04.2018.
JFF Festival of Tolerance
JFF is an annual film festival dedicated to contemporary Jewish film work and was organised for the first time in 2007. The goal of the Festival is to educate viewers, and to emphasize that tolerance and mutual values form a foundation of peaceful coexistence in different national and religious surroundings.
više info na: www.festivaloftolerance.com
20.04.- 05.10.2018.
The Zagreb Time Machine
Various squares and streets in the centre of Zagreb, as well as Maksimir park, are once again places where you can enjoy various events and performances. This project is organised by the Zagreb Tourist Board and is in its seventh year, successfully encompassing nine events that each in its own way present city's past and culture.
više info na: www.zagreb-touristinfo.hr
23.05.-02.09.2018.
Summer on Stross
18th Strossmartre, our favourite open air festival, is beginning on the 23.05. and will last until 02.09. Lovely days of concerts, quizzes, workshops and more. If you are visiting Zagreb this summer- Strossmayer Promenade is the place to be!
više info na: www.ljetonastrosu.com
04.06.-09.06.2018
Animafest Zagreb
The World Festival of Animated Film Zagreb is an annual festival dedicated to animated film held in Zagreb since 1972. Since 2005 the festival is held every year- each odd-numbered year is devoted to feature film and even-numbered one to short film. However, this year, as in the past two years, we will have both- feature films and short ones, a well rounded overview of international animation whose rich programmes include something for everyone.
više info na: www.animafest.hr
25.06.-27.06.2018.
INmusic festival 2018.
INmusic festival has been one of Croatia's biggest international open-air festivals since 2006. The festival is held annually and takes place on Youth Island (Croatian: Otok hrvatske mladeži) in the middle of Zagreb's Lake Jarun. It includes several genre-specific stages with internationally renowned indie rock, heavy metal and electronica artists.
više info na: www.inmusicfestival.com
more...